Your Local Experts.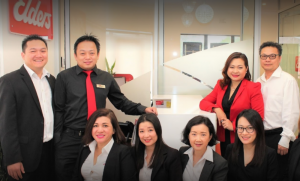 Read more
Elders Real Estate Cabramatta plays an active role in contributing towards the community and has been providing friendly service since its establishment. Our team have extensive knowledge of the local neighbourhood and have a strong relationship towards our clients. Elders Cabramatta has a professional and committed team to meet all your real estate needs.
Vietnamese assistance
Looking to sell or lease your property?
Want a full market appraisal of your property, plus comprehensive advice on how to buy or sell your home? Click here to contact one of our experienced local agents today.
Meet some of our happy clients
Cabramatta
Our overall experience with the staff at Elders Cabramatta has been nothing short of perfect. We have managed several properties under them and have never had any major problems. Communication is always prompt and pleasant and on numerous occasions, they have made sure that they were on top of things by providing us with numerous updates.
~ Always a pleasure to work with
Cabramatta
Throughout my years renting I have never met a more compassionate and professional bunch of people. The staff at Elders in Cabramatta always made sure that all actions were within the interest of myself and the landlord. They had made sure that the communication between all parties was clear and concise and I would without a doubt recommend them to friends and family.
~ Pleasant and efficient
Cabramatta
Thank you so much Van for your selling our house and helping us find our new home! Van made sure that we were in good hands with her, and her team. I was overjoyed with the outcome. Throughout the otherwise frustrating and tedious process, she had maintained her composure and upheld a high level of professionalism.
~ Very grateful
Cabramatta
Working with Van has been a pleasure. I had recently sold my property through Elders Cabramatta and Van made sure that I was in the loop with whatever procedures needed to be done. This meant that selling our house was almost hassle-free. it gave us such satisfaction and assurance that the sale of our home was in capable hands.
~ Smooth process
Cabramatta
Jimmy took the time to understand our needs. We found that he was reliable, straightforward and honest to us. He had a genuine interest in what we were trying to achieve for our sale and provided us with great advice during a stressful time. I have no hesitation in recommending him to anyone else that is looking to sell or purchase their home.
~ Excellent and capable agent
Cabramatta
The team at Elders Cabramatta have been a joy to work with. From the initial meeting with the receptionist at the office to the management of my property. They have been able to address my concerns as a landlord. I am very impressed with the level of professionalism that they have shown throughout the years.
~ Friendly staff
Cabramatta
We had just sold a property with Van and it was such a pleasure dealing with her. She provided us with a personalized service and her approach on selling our home gave us more than what we had expected. She had always made sure she had our best interests in mind through the whole process and we are very grateful for what she has done.
~ Trustworthy service
Cabramatta
We were very impressed with the service and outcome from Van and her team. They made sure to keep us updated and informed of every detail in the process so that we always knew what was happening and gave us what we needed. Overall we had a great experience!
~ Very professional team!